Valentino arrived at the Nyaru Menteng Sanctuary on Valentines Day of 2015, hence his cute name. He was rescued by a rubber tree farmer by the bank of a river in very poor condition.  Valentino was covered in wounds and very malnourished, weighing just 2.2kgs.
At the sanctuary he was placed in Nursery School and cared for by babysitters who taught him basic skills of nest building and climbing.
Now Valentino is a confident little 3 year old and has graduated to Forest School.  He has made some friends of his own who are teaching him to forage for food and to try new things.  He loves looking for termites and munching on rose-apples.
Valentino is also learning to detect danger and has developed the skill of using a long stick to swat away snakes if they come too close.  Despite his bravery, Valentino is a little scared to walk back to his enclosure alone and prefers to travel back with his school friends close by.
Valentino loves playing in puddles, especially during the rainy season.  Valentino will continue to develop new skills as he graduates through Forest School.
How my Adoption Can Help
Safety in our Rehabilitation Centres
Rehabilitation centres are set up to accommodate confiscated or donated pet orangutans. The aim is to guide and teach apes to return to their habitat. Many orangutans have already been successfully returned and released back in the wild.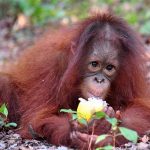 Dedicated Nannies
Orangutan infants stay with their mother until they are about 6 or 7 years old. The mother teaches them everything about survival in the forest. Orphan orangutans in our care have dedicated nannies who give them the love and teach them important skills to be a wild orangutan.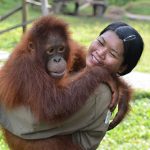 Critical Vet Care
Unfortunately, Orangutans will come to us critically ill or malnourished. They may also need care from time to time as they grow up and go through Forest School. Our dedicated veterinary team are on hand at both of our rehabilitation centres.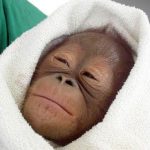 Reintroduction or Translocation into the Wild
When an orangutan has completed their Forest School training, we assess if they are ready to be released back into the wild. Our overriding goal is to reintroduce orangutans back to secure natural habitat. We can only do this with your support.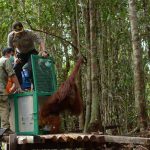 Why Adopt a Baby Orangutan?
Your adoption gift will be used in general support of our rescue and rehabilitation efforts, including medicine, food, equipment, rescue operations, cages and hundreds of other things necessary for the ongoing care of these fabulous animals.
There is no limit to the number of people who can adopt our babies.
Your Adoptions Includes:
A Certificate of Adoption