Everyone Takes Cover in the Rain
The word 'orangutan' comes from the Indonesian words orang, meaning 'person', and hutan, meaning 'forest'; thus, 'orangutan' translates as 'person of the forest'. These amazing great apes have more in common with humans than their name implies. Not only in terms of our distant ancestry, nor our similar physical anatomies, but also a strong dislike of getting caught in the rain!
When rain begins to fall, humans will pop open an umbrella, throw on a raincoat, or break into a quick sprint to the closest shelter. Orangutans, of course, do not have umbrellas, coats, or buildings to shelter in. What they do have is the forest – and a lot of it! Over the course of my time working in American zoos and in the forests of Borneo, I have witnessed orangutans cleverly use branches as makeshift umbrellas to shelter themselves at the first signs of rain.
Recently I was sitting in camp as a morning rainstorm prevented us from venturing into the forest to track orangutans. Instead, my day was filled with datasheet entries, repairs to broken equipment, and writing short anecdotes such as this, to share a glimpse of life in Batikap with the world. Days like this are not all that uncommon here in Indonesia: it is, after all, the wet season!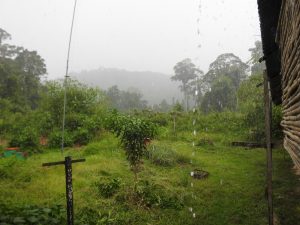 Despite the rain, most of our days are still spent trying to track orangutans in the forest. Lately, however, most of our attempts have been in vain. So, where have all the orangutans gone? There are potentially many answers to this question. They could have travelled further away in search of food. Or roamed off to find a potential mate. If you ask me, I still think they are here, but hiding from the rain! With their large bodies and bright-orange hair, orangutans blend surprisingly well into the treetops they call home. When they retire to their nests and pull leaves over their heads to shelter from the rain, they are practically invisible.
I will never forget the day I watched Mardianto build his regular night nest: It started raining just as he was getting comfortable, and Mardianto was not impressed! He slowly pulled leaves over his body to blanket himself. I thought this was the end of it, until he flipped some more leaves over his head and disappeared! Suddenly, the only way to see Mardianto was with binoculars, and even then, all you could make out was a pair of eyes peering out from beneath a pile of leaves! Like a hermit in a hut, Mardianto was safe, happy and dry!