Orang-U-Friends Schools Program
If your school or class are interested in helping orangutans, please email us at contact@orangutans.com.au for more information.  
BOS Australia Team
Orangutans could be extinct in the wild unless we take urgent action. Would you like to help save them?
Your school can join Orang-U-Friends and help BOS to rescue injured and orphaned orangutans and teach them how to survive in the wild so that they can be released back into the rainforests.
Orang-U-Friends is a program which enables schools to sponsor an orangutan infant at the Nyaru Menteng Reintroduction Project. The school can then follow their progress as they move through the rehabilitation process, learning forest skills such as climbing, finding food and nest building so that they can one day live free in the wild.
As sponsors, schools will receive a certificate of sponsorship, a photograph and profile on their chosen infant along with a certificate of appreciation. We'll also provide you with a pack of fundraising ideas and activities for students. Your school will receive updates on your chosen orangutan twice a year.
All you need to do is hold a fundraising event (aiming to raise $240 or more), send in the proceeds and choose which infant you would like to sponsor – it's that simple. We can even provide you with suggestions and support for a great fundraiser if you wish.
Information for students
If you would like your school to get involved with helping save the orangutan, please email us the following information and we will contact your teacher with information about joining Orang-U-Friends:
Your teacher's name and email address
Name of school
Address of school (including state and postcode)
Information for teachers
If action is not taken now, students in coming years will be learning about how we allowed the orangutan to become extinct.
The Orang-U-Friends program helps raise your students' awareness of endangered species and the environment and gives them a chance to see how they can make a real difference. It's also fun and interactive. We can even provide you with suggestions and support for your fundraising event.
For more information please email us.
Fundraising ideas
Here are some Orang-U-Friends ideas which can help raise funds for orangutans for as little as a gold coin donation:
'Orange day' – wear orange (wigs, hats, ribbons, socks, t-shirts, anything orange)
Cake and ice cream stalls with cakes, slices and biscuits – sell to others at morning tea and lunchtime
Jellybean guessing competition:

How many jelly beans are in the jar?
How many orange jelly beans in the jar?

Drawing or painting anything to do with orangutans
Creating cards, tea towels or aprons with an orangutan theme
Car washing day
Sausage sizzle
Face painting day
Disco or dance
Any combination of the above ideas.
We love to hear about your fundraisers – tell us about your day and send photos via email or Facebook.
Thank you to the students and staff at the schools who have held successful fundraisers and sponsored orangutan infants as part of the Orang-U-Friends program.
How Can You Help
There are lots of ways you can support orangutans and help ensure the survival of this precious ape.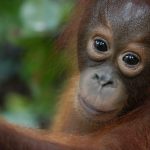 Adopt an Orangutan
Orangutans are endangered and at risk of extinction. Habitat destruction means hundreds of orphan orangutans need to care for every year. You can help by adopting one. Their dedicated 'nannies' teach them everything they need to know for when it's time to release them back to the wild. You can follow their progress through Forest School.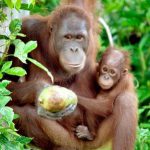 Make a Donation
Please help the Orangutans in their struggle for survival. Your donation is important and goes directly to BOS Indonesia.
By donating, you are helping bring this noble yet endangered species back from the brink of extinction and on a path to freedom – from rescue to rehabilitation and release.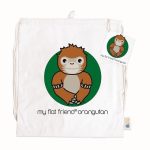 Visit Our Shop
The perfect gift for any occasion! Choose from our selection of instant gifts that directly support our orangutans. You can buy a wheelbarrow, provide food for an orangutan for two months or lots more. You will receive a certificate, personalised with the name of your choice – perfect gift for you or a friend.