Jaqueline Pascarl and her husband, Dr Ian Maratos, from Melbourne love murals and the images they reflect. And both are deeply concerned about the destruction of the rainforest in Borneo and the habitat of orangutans.
Being intimately acquainted with the devastation of forest clearance through their friendship with Judith Curran, producer of the award-winning documentary series 'Orangutan Jungle School' on Stan, Jacqueline got a wonderful idea: Why not create a mural on a pillar in front of her husband's new 'Snore Fix Doctor & Family Dentistry' practice that combines both the passion for images and the engagement for nature?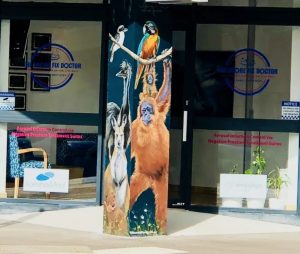 "It was really important that the artwork we commissioned for our new building wasn't just some pretty pictures, Jacqueline explains. "The images and animals had to resonate with us personally and also have a subtle ability to educate our community. That is why we chose the beautiful Clara and Clarita after Judith forwarded us some still photographs."
If you are a fan of Orangutan Jungle School, you probably know orangutan mum Clara and her baby-girl Clarita. Our vet team had to separate them because Clarita was suffering from malnutrition and a severe skin rash caused by exposure to rengas sap and needed immediate intervention. She was brought to the Nyaru Menteng veterinary clinic for treatment, together with mother Clara, who had also been exposed to the rengas sap. Clara and Clarita were separated from each other for part of their recovery, but thankfully Clara accepted her baby-girl upon their deeply moving reunion.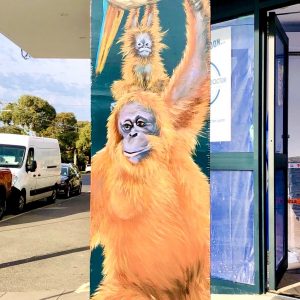 Jaqueline started painting parts of the mural on her own, but artists from 'Melbourne Mural's' did the main work – and the art piece turned out gorgeous. Clara and Clarita even got company on the other sides of the pillar, by domestic pets, farm animals and Australian native animals. In addition, each side has a height growth chart, so kids and adults can see how big they are in relation to the creatures. Each mural also has an environmental message above the image. On the orangutan side, the words read, 'Drink tap water, better for the planet and your teeth'.
"Daily, scores of people pass by on foot with their dogs, kids and loved ones, and thousands more by car", Jacqueline describes the perfect location of the artwork. Whenever she gets a chance, Jacqueline runs out and talks about BOS Foundation's work, the problems orangutans are facing and encourages people to watch Orangutan Jungle School.
Thank you so much for supporting our cause, Jacqueline Pascarl and Dr Ian Maratos!
Please send us your story and photos about what you are doing in your workplace to help orangutans. We love to hear from you!