International Orangutan Day – what a party!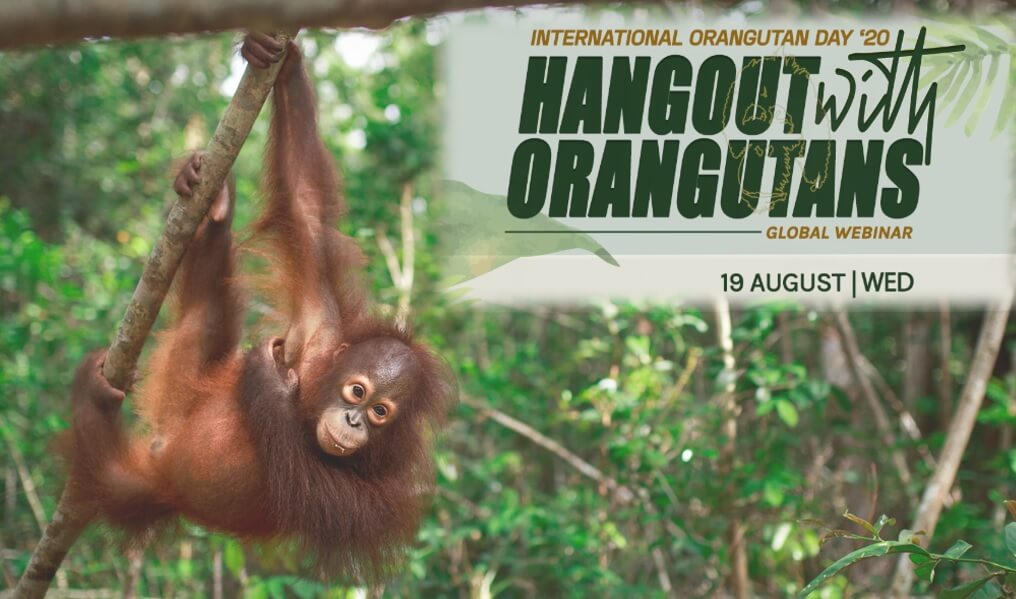 Yesterday, on the 19th of August, we painted our social media red. And we had a blast. The global webinar to celebrate our red cousins was a full success. The whole BOS partner network was in action, live streaming on social media for 16-hours straight – an ambitious effort, no organisation we know of has ever attempted.
According to the time zones, we at BOS Australia kicked off International Orangutan Day first, followed by the team of our parent organisation, BOS Foundation in Indonesia. The party then continued in Europe, with our partners from BOS UK, BOS Switzerland, BOS Germany and Save the Orangutan.
The webinar's motto, 'Hangout with Orangutans, was exactly what our guests from around the globe did: From morning to evening, they virtually followed us right into our rehabilitation centres and Borneo's rain forest. Wild streaming of never seen footage from our forest school in Nyaru Menteng, filmed by staff members during the pandemic; sneak-peaks behind the scenes of the award-winning documentary show on STAN, 'Orangutan Jungle School'; and interviews with BOS experts and guests – the program was a perfect medley, reflecting our conservation efforts to save the critically endangered Bornean orangutans and their habitat.
The audience took full advantage of this special opportunity, continuously sending in questions. During our Australian part of the webinar, we had the pleasure to chat with four amazing people, who have dedicated their life to orangutan conservation: BOSF's CEO Jamartin Sihite; BOS Australia's primate expert, Lou Grossfeldt; BOS veterinarian Arga Sawung Kusuma; and Judith Curran, creator of 'Orangutan Jungle School'.
Jamartin Sihite informed our viewers about the challenges BOS is facing during the global pandemic, with costs for food and basic supplies skyrocketing, and all our release and volunteering programs on hold. He described the complicated process of securing urgently needed new forests for rehabilitated orangutans. And he shared his personal feelings of releasing an orangutan back to the wild. "It's like kissing your daughter when she gets married", Sihite compares the feelings. "You are happy, but also worried that she will be fine".
Our enrichment and animal welfare expert Lou Grossfeldt talked about her multiple visits in Indonesia, her special bond with orangutans and her work with the "incredibly talented BOS staff in our centres". She encouraged the audience to be part of the rehabilitation process by joining BOS Australia's enrichment program in Samboja Lestari.
Vet Arga Sawung Kusuma explained how susceptible orangutans are to human diseases, and how important the babysitters' love and care is for the mental health of the little orphaned orangutans. He also received one of the most burning questions of the evening: How is Beni doing? The listeners learned that everybody's darling from Orangutan Jungle School is in great shape and ready to be transferred to a pre-release island. And whom does Dr Arga like better, humans or orangutans? The charming vet didn't have to think twice: "Orangutans!".
Finally, Orangutan Jungle School creator Judith Curran invited the audience behind the scenes of the famous show. The questions came rolling in. What were the biggest challenges while filming? "The sweat pouring into the camera", she vividly remembered. How many hours of filming does it take, to create one episode? "At least ten hours a day for ten days". And the most important question: Will there be a season 3? "Yes, there will be more", Curran revealed.
But what is a party without some boogying? Our unique global event was rounded off by a live music and DJ concert Indonesian style.
No matter how far we were apart that day, the unique webinar brought us all together as one big crowd, united in fighting for the survival of our amazingly beautiful red cousins. "It takes widespread cooperation, a lot of money, and even more hard work to achieve the desired results", BOSF CEO Jamartin Sihite sums up. "We hope that with this online event series, we can expand the network of supporters for the conservation efforts of Asia's only great ape."
You can check out the BOS Australia Webinar recording here…