BOSA Get Wild – Melbourne – 26th November 2013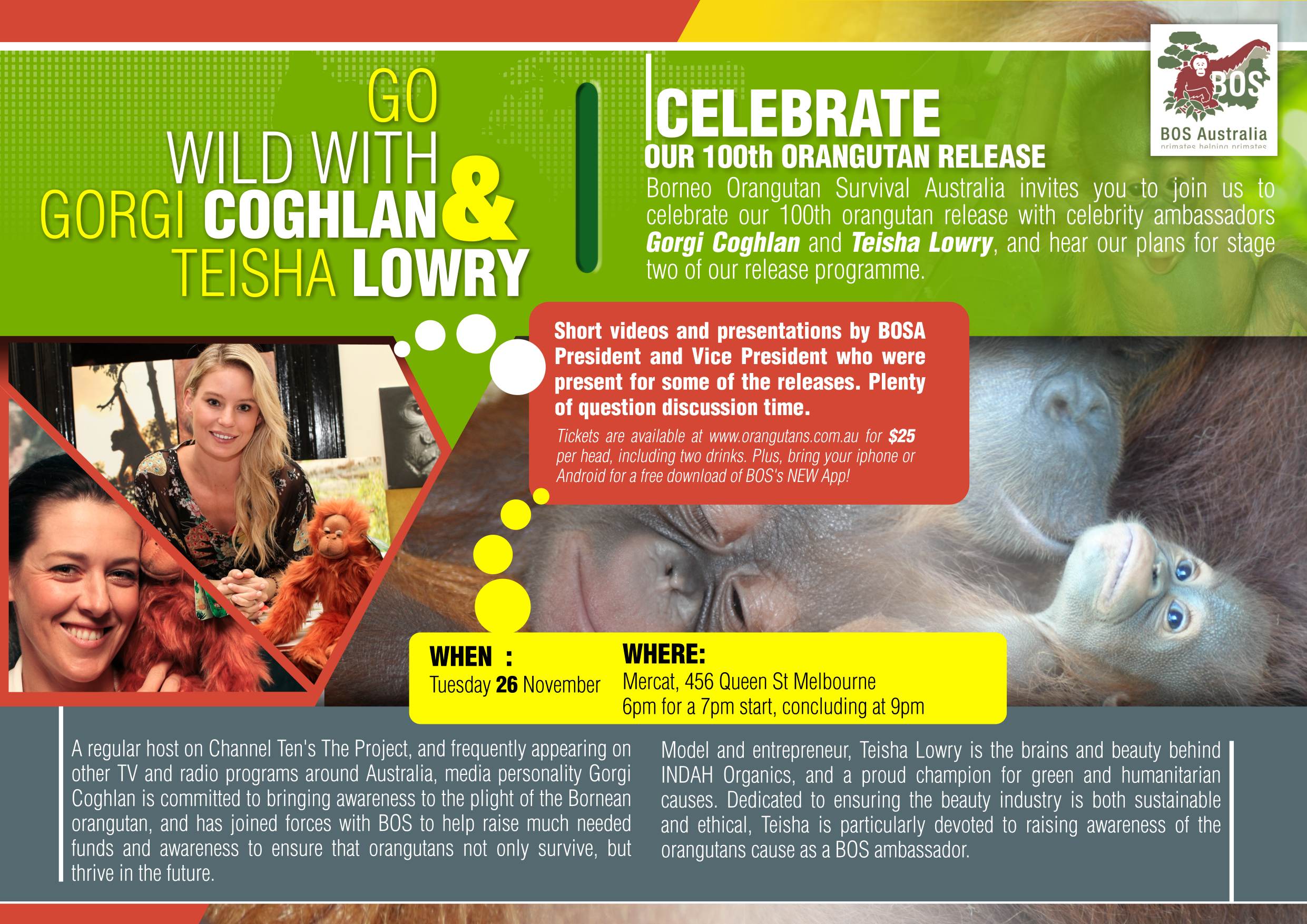 Join us to celebrate our 100th orangutan release with celebrity ambassadors Gorgi Coghlan and Teisha Lowry, and hear our plans for stage two of our release program.
The evening also offers the chance to watch short videos and hear from BOS President Tony Gilding and Vice President Louise Grossfeldt who were present for some of the releases. Plenty of question and discussion time.
WHAT: Go Wild with Gorgi Coghlan and Teisha Lowry. Celebrate our 100th orangutan release
WHEN: Tuesday, November 26th 2013 at 6pm for a 7pm start, concluding at 9pm
WHERE: Mercat, 456 Queen St, Melbourne
Tickets are available for purchase here for $25 per person, including complimentary drinks and snacks.
Plus, bring your iphone or Android for a free download of BOS's NEW App!
A regular host on Channel Ten's The Project, and frequently appearing on other TV and radio programs around Australia, media personality Gorgi Coghlan is committed to bringing awareness to the plight of the Bornean orangutan, and has joined forces with BOS to help raise much needed funds and awareness to ensure that orangutans not only survive, but thrive in the future.
Model and entrepreneur, Teisha Lowry is the brains and beauty behind INDAH Organics, and a proud champion for green and humanitarian causes. Dedicated to ensuring the beauty industry is both sustainable and ethical, Teisha is particularly devoted to raising awareness of the orangutans cause as a BOS ambassador.