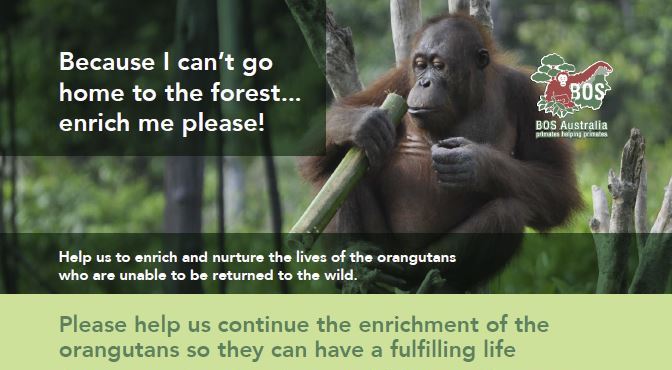 "The most important thing is that we don't give up the fight to protect the orangutans, the forests and, ultimately, ourselves." – Lone Dröscher Nielsen
Forest damage in Indonesia has reached an alarming level. The destruction rate has reached 2 million hectares per year. These numbers are high due to the out-of-control-issuance of oil palms and industrial permits.[1]
As a valued BOS (Australia) supporter, you are already keenly aware of this ongoing atrocity.
You also know a special gift of moneywill directly contribute to supporting the BOS commitmentto save orangutan victims of deforestation and other appalling conditions. And you know our dedication to rehabilitate them for the wild is only possible with your generosity. We want you to know you have helped return 162 orangutans back to forest homes so far and your compassion is creating lasting change.
You know our ultimate aim is to one day empty our centres, close our gates with all of Indonesia's orangutans released into the wild and witness new, sustainable environmental practices that ensure safe relocation of any threatened orangutan. And you know, sadly, our aim is not realistic for the foreseeable future.
You know all of this because you share this commitment. Through your ongoing donations, you are already a part of the fight to save these magnificent apes and the task would not be possible without you.
You know your kindness is a huge part of the solution.
Here's something you might not know…
The challenge upon us is not only to rescue, rehabilitate and return home endangered orangutans, but also to care for and enrich the lives of those orangutans who, through no fault of their own, will never know forest homes again.
We currently care for over 100 orangutans who will never everlive freely again.
Confined to an island or enclosure for the rest of their lives due to injury or disability, we believe it is our duty to give these orangutans the best possible lives.
How can you help us take on this responsibility and nurture the lives of orangutans stripped of their right to a natural home?
Please make a tax deductible donation to enrich their lives!
Enrichment is a vital part of a fulfilling and stimulating life for a captive orangutan. It is essential not only for unreleasable orangutans, but those preparing to return to the wild.
Highly intelligent and inquisitive by nature, keeping orangutans interested and entertained is no simple task. And whilst enrichment in itself is crucial, in order to truly reach their potential, our unreleasable orangutans also desperately need more space. 
The enclosures at Samboja Lestari are insufficient, overcrowded and have minimal areas for socialisation. Customised enrichment is difficult to run when orangutans are sharing enclosures.
We have exciting plans to create a new enclosure at Samboja Lestari that, with your help, will:
Create more height and space
Enable better access to a socialisation area
Allow better access for enrichment programmes
Provide improved sanitary conditions
Accommodate orangutans with communicable diseases comfortably and safely
The cost of building this enclosure is over $60,000. We can only raise these funds and reach this goal with your generosity.
Let's see this plan to fruition together! The attached brochure introduces some unique orangutans who call Samboja Lestari their forever home. You can also learn more about our new enrichment program.
A donation of a cash amount that feels right for you will make a real difference to the plight of the orangutans. It will help to build the new enclosure and tools that will continue to enrich, and significantly brighten the lives of those who cannot go back into the wild.
Make your big hearted donation online with credit card/direct debit or PayPalor call (02) 9011 5455. Feel proud to give better lives to the orangutans who really need your help.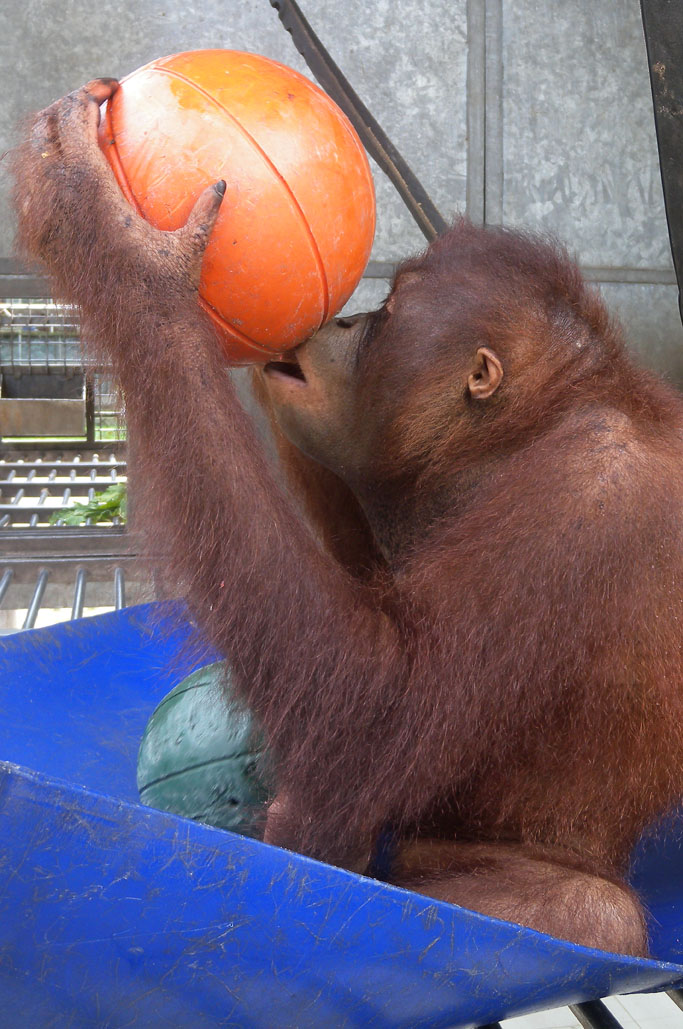 Photo courtesy of Indrayana