Help us care for our orphaned orangutans by providing a baby care kit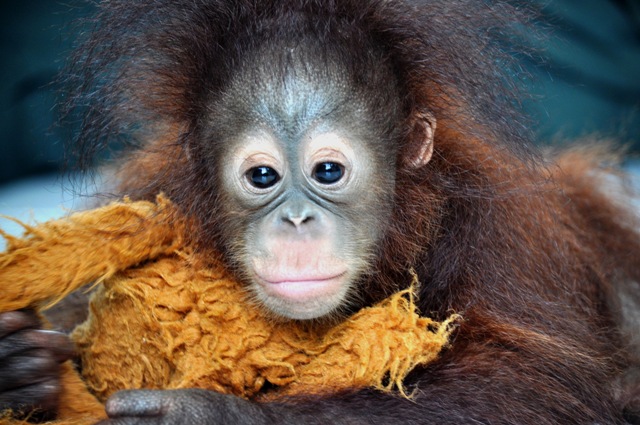 By purchasing a baby orangutan care kit you can help us provide the around-the-clock-care that every single orphaned orangutan requires.
Why are these baby care kits important?
In the wild baby orangutans stay with their mothers for up to eight years. They rely on their mothers to provide continuous care and love as well teach them the skills they need to survive in the wild, such as how to climb, what food to eat, how to make a nest and importantly, how to avoid predators.
Sadly, most of the babies under our care are orphans and arrive in poor health. They are helpless and cannot survive without our care. Each baby requires 24 hour care with their surrogate mothers, our dedicated babysitters and medical team. This involves the same care that human children need – milk, bottles, towels, toys, beds, medicine and of course lots of love and attention. The babies need continuous encouragement and support, especially as many have the physical and mental scars as a result of being torn from their mothers. The good news is, with your help, our orphaned orangutans will grow in confidence and develop the skills needed to one day return to the wild.
How can you help our orphaned orangutan babies?
We are in constant need of practical items to help care for each and every one of our babies. Your support will help us provide:
• Continuous round the clock care
• Ongoing health checks
• Medicines and vitamins
• Baby beds and sleeping baskets, comfort blankets and toys
• Baby care items and milk
• A variety of different sized climbing and learning structures
You can help us care for our babies by simply donating $35 for a baby orangutan care kit.
Every baby care kit contains:
• 1 packet of milk $7
• 2 baby bottles $4
• 1 blanket $5
• 1 packet of nappies $10
• 1 sleeping basket $9
$35 for all this for one of our babies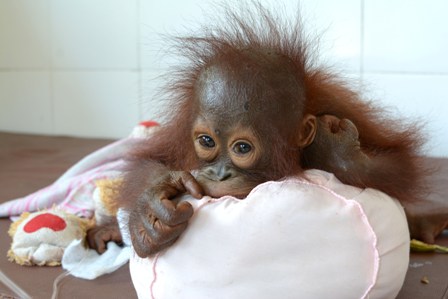 There are other ways you can help as well:
• $10 buys a swinging hammock
• $25 buys cuddly comfort toys
• $50 buys a bed for a baby orangutan
• $100 buys enough medicine for a year for one infant
• $1500 buys a whole outdoor playground
Please support us now
To make a tax-deductible donation donate online via our fundraising page or via PayPal  or call (02) 9011 5455. Every single donation, no matter what the amount, will make a significant difference to the lives of the babies. We appreciate your support.
BONUS POSTER
Print one of our downloadable posters and display at your workplace or school – see below.