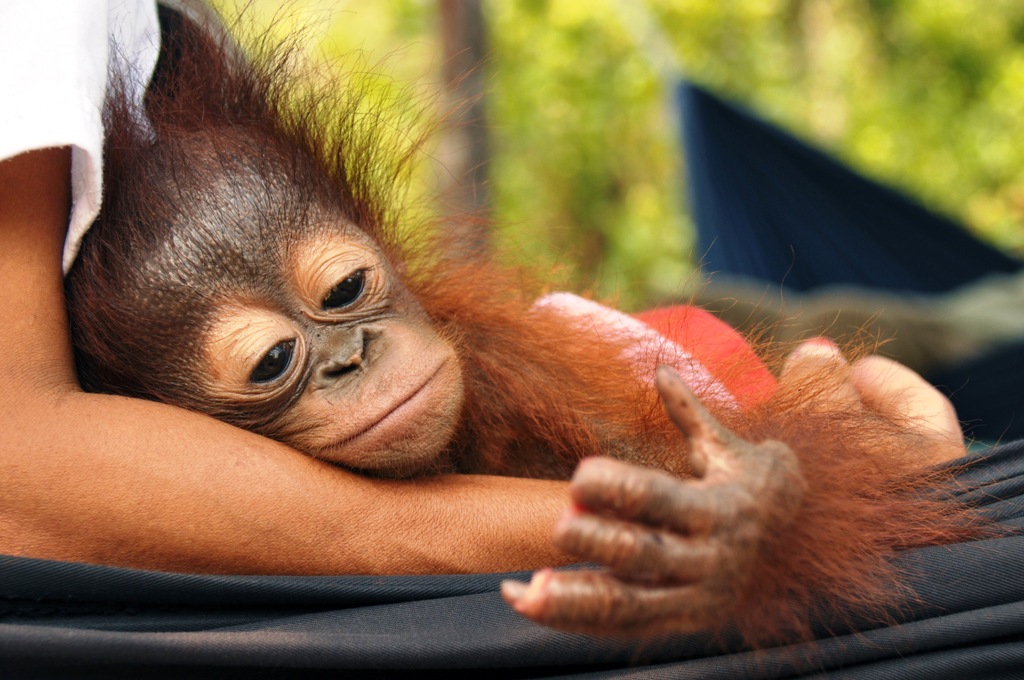 November 2013
Unimaginable terror
Now just six months old, Sura is the latest victim of the scandalous Indonesian deforestation activities. Severed by a machete or knife, his missing fingers are a brutal and permanent reminder of his lost mother and forest home.
Desperation, sadness, loss and confusion have been his experience since two months ago, so weak and tiny, unable to do anything for himself, he was handed over to carers at the Nyaru Menteng Rescue centre.
In Indonesian, Sura means 'bravery'. Despite physical and psychological abuse, there are hopes Sura will be ready one day to explore the forest of Kalimantan as a strong, capable, and fearless adult orangutan.
But this journey has just begun. BOS Foundation is helping to fund care for Sura and a dedicated team has pledged an abundance of love and care to heal him and to nurture his natural wildlife skills but they cannot do this without you. They need funds to send him home.
Sura, like many others, needs you to donate a gift of $25, $50 or $100 and accelerate a reunion with his natural home.
Unsustainable practices
Without our collective help, orangutans could be extinct in the wild within our lifetime.
Orangutans are an endangered species and the greatest threat to their survival is the extensive destruction of their habitat. Unsustainable logging, mining and large-scale deforestation for agriculture are depriving them of a rightful natural home.
Some experts estimate 6,000 orangutans disappear each year. With a precarious, and speculative 60,000 left in the wild, undeniably, with each passing moment, due to human activity, the survival of this magnificent animal hangs in the balance.
The orangutans cannot endure these hardships and you can help.  Please send a special gift of money and you can fight for their survival. If you choose to pledge an ongoing monthly donation of $25 or $50, it can help make their future sustainable.
Unsuccessful milestones
This year, because of you……
BOS Australia:
* prepared for readiness and returned the 100th orangutan into the forest and to freedom since the release programme started in 2012
* are instrumental in the upcoming release of 20 more orangutans in November, as a direct result of your generous tax time cash donations
* sent in excess of $250,000 to BOS Indonesia to help with the rehabilitation and release programmes and to care for orangutans unable to return to the forest
* continued to purchase land parcels as eternal nature reserves owned by BOS and for release programmes
* provided ongoing commitment to the conservation of orangutans and their ecosystem through local biodiversity, forest rehabilitation and agro forestry projects
These milestones and achievements belong to you too. Wholly dependent on support from adoptions, sales of our merchandise and donations to help save the orangutan and the rainforest, these successes have been made possible because of you.
We need more funds to keep working towards the release of 600 more orangutans who are longing to go home. A donation directly to our release fund will enable the orangutans to continue their return to the forest, sooner.
Unachievable through you
Abused, tormented, driven from their forest homes, the plight of one of our closest living relative is of our making and yet, you can help them recover.
Take action and donate money today. Orangutans like Sura will be glad you did and we know you will too. Stop wondering what it would feel like to make a difference and start doing.
Send your donation this month and we can:
Purchase a parcel of rainforest with $25
Support baby orangutan training with $50
Feed & house an orangutan that has lost its forest home with $100
Research suitable and safe habitat for orangutan releases with $250
Please consider a value of your own that feels right for you.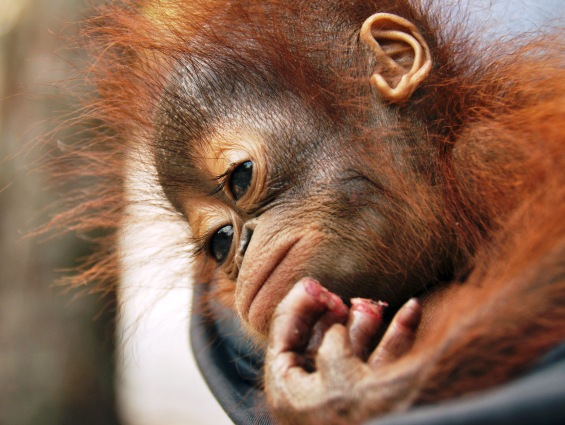 Thank you! You are helping to feed and house, care for, train, rehabilitate and release beautiful orangutans into the wild.  You can feel good about that!  Every dollar we receive brings our collective goals closer, faster and your donations are tax deductible over $2 if you are an Australian taxpayer.
January 2014 update
Since his arrival in Nyaru Menteng, Sura's health had been up and down. There were times when he caught a flu but now we are delighted to see that Sura's health is getting better and better. Intensive care by the Medical Team of Nyaru Menteng has shown great results. The wounds on his hand are the priority and they have healed very well. As a new year gift, we tell you this happy development.
On November 17, the eight month old who now belongs to the Nursery Group suffered from flu and shortness of breath.  The babysitters had to bring him back to the clinic.  The medical team decided that intensive care and nursing were needed to restore Sura's health at the clinic in Nyaru Menteng
After intensive medical care and treatment, Sura finally recovered.  The wounds on his fingers are now healed, his flu is gone, even though sometimes his throat sounds different during cold or humid weather.
During his time being cared for at the clinic, Sura was active and loved playing both inside and outside the clinic.  With his babysitter watching closely all the time, Sura started climbing tiny trees surrounding the clinic.  He also has gained more weight; he was 2 kg when he arrived and he is now 3.6 kg.
Sura loves forest fruits and young leaves.  He will devour ehang and mesisin fruit which are in abundance at Nyaru Menteng.  Vet Meryl once told us that she tried to give him banana several times, but Sura never touched them.  He even threw them away!  May be Sura remembers his wild upbringing more than we could have hoped.
Sura has now gone back to join his friends at Nursery Group.  So much joy for us because the hardwork of the team in Nyaru Menteng has paid off;  Sura is now healthy again and hopefully he will always be.