Orangutan habitat threatened. Make your voice heard.
Orangutan habitat threatened. Make Your Voice Heard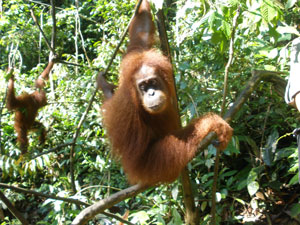 We recently posted an article on our website regarding plans by Asia Pulp & Paper (APP) to log an important buffer zone around Bukit Tigapulah National Park in Sumatra. This lowland rainforest has been used as a reintroduction site and currently is home to over 100 released Sumatran orangutans, including Perth Zoo's Temara. It also contains a population of 65 endangered Sumatran elephants and other endangered wildlife.
Recent reports indicate that APP in joint venture with Sinar Mas has now been granted a licence to clear the forest to supply a nearby pulp mill.
There are alternatives! We understand that the Australian Orangutan Project and its partners have lodged a submission with the Australian Government proposing a Reducing Emissions from Deforestation and Forest Degradation (REDD) Demonstration Project for this area of forest. The Indonesian Federal Government has indicated its in principle support for the concept.
Will you please make your voice heard on this issue? Ask the Australian Government to work with the Indonesian Government to prevent APP and Sinar Mas clearing this important forest and to develop better solutions for the people, the wildlife and the planet.
Send an email today:
Express your concern by copying and sending the following email to Senator.Milne@aph.gov.au, Green Senator for Climate Change and Stephen.Smith.MP@aph.gov.au, Minister for Foreign Affairs.  
Dear Senator Milne / The Hon. Stephen Smith, MP 
It is disturbing to hear that an Indonesian paper company plans to log an area of 30,000 hectare of unprotected jungle in Sumatra, containing vital habitat for the critically endangered Sumatran orangutans, among many other animals. We understand from reports that a licence has now been granted.
We must protect all remaining areas of forest in Indonesia as urgently as possible.
We ask that the Government make representation to the Indonesian ambassador to revoke any logging licence that might have been granted over the Bukit Tigapulah National Park buffer zone and consider other more sustainable solutions for people and planet.
Yours sincerely
 
(add your name and postal / email address here)
Sign the AOP petition:

Click hereto sign the petition to the Directors of APP and Sinar Mas Group requesting withdrawal of the proposal.
 
Thank you for your support on this important issue.
Sue Floyed
President
BOS Australia