Visit Samboja with Lou Grossfeldt
BOSA Volunteer Enrichment Program, Samboja Lestari, East Kalimantan
with Lou Grossfeldt & Janet Lackey

Our VP, Lou Grossfeldt and Primate Keeper, Janet Lackey will be in Borneo at the Samboja Lestari Lodge from 10th to the 24th of February 2016 working on the ongoing behavioural enrichment project for the non releasable Orangutans. Lou has over 25 years experience as a Primate Keeper and has an extensive knowledge of Orangutans. She is featured in a recent book " My Primate Family " about her work as a primate keeper as well as the work she does in Borneo. Lou's Assistant on the Enrichment Program is Janet Lackey, a Primate Keeper from Taronga Zoo.
For those that have always wanted to visit Borneo a trip during Lou and Janet's stay is an opportunity to both enjoy and learn. BOSA will be coordinating an all inclusive group visit during this period.
Samboja Lestari is the home to about 200 Orangutans of all ages.
During Lou & Janet's stay we will be offering 2 types of visits
•    Short term visit: 6 day with some volunteer work on the enrichment program 
•    Volunteer visit: 2 Week – Volunteers will work 5 days per week on the enrichment program.
Volunteers on a 2 week trip who have completed health checks for TB and Hep A will be granted access to the Forest School where Orangutans are being prepared for their release to the wild. This is a unique experience not normally available to visitors. It is only available during the time when Lou/Janet are at Samboja Lestari.
Orangutan sightings are guaranteed for both types of visit. Lou and Janet are also very knowledgeable about the area and will share their knowledge about the area and the Orangutans in return for a glass of wine (or two).
Samboja Lestari Lodge is quite charming and is a very comfortable base to explore South Kalimantan.
Its web site is http://www.sambojalodge.com/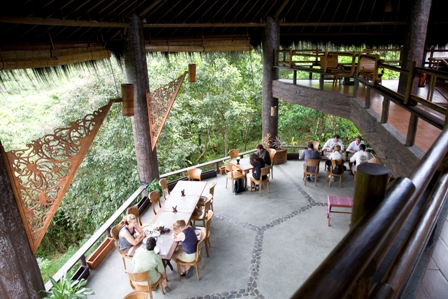 The lodge is located about 30 minutes drive from Balikpapan airport which is serviced by a couple of airlines from Singapore and Jakarta including Singapore Airlines and Garuda Indonesia. Travellers will be responsible for their own airfares and flight arrangements to Balikpapan.
If this is of interest please email contact@orangutans.com.au. We are estimating a ground cost of around $1,500 per person for transfers, accommodation, meals and activities for a 6 night stay (based on single room). For longer stays add A$100 per day. This includes a donation to the Orangutans. Once you have advised your arrival & departure dates and preference for single or twin room we will confirm exact cost.
For the two week trip we advise arrival on morning of 10th Feb and departure on afternoon of 24th Feb.
For 6 day trip we advise arrival on 10-12th February.
Numbers are limited so please advise your interest as soon as possible.
We anticipate running a similar volunteer program in November 2016 and February 2017.