A sad goodbye
A sad and tearful farewell to another Nyaru Menteng orphan. Michelle Desilets asks that some good come out of the loss of Ucon. You can do this by donating to support the many orphan orangutans in our care.  And tell the government and manufacturers that the cost of products containing palm oil is unacceptably high.
Michelle Desilets, International Campaigns Director, BOS International: Posted on Forest Policy Research: 14 December 2008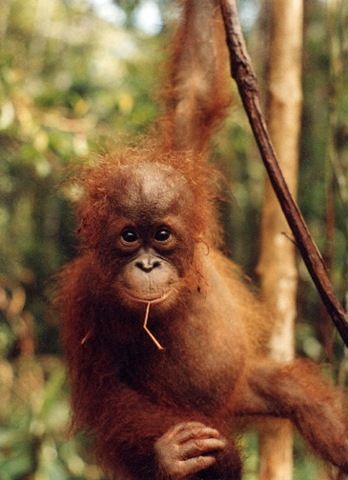 A few days ago I was playing with Ucun in the nursery forest. He was full of life, making his way to me as soon as I appeared. Settling in my lap and playing endlessly with my hands and feet and begging for tickles by showing me precisely where to tickle him. He squeezed my nose, I am sure expecting it to squeak like so many of the soft toys the babies have. He gently touched my eyelashes, sucked on my chin, and and clutched at my curls.
I wrote just one sentence about him: "Ucun now seems to be my best friend in Nursery."
Today, Ucun began his third day of seriously high fever. Now on an IV as well as oxygen, head babysitter Yati tried to bring down his fever with cold water compresses. I went back to the house to get frozen compresses, and we wrapped them up in soft flannel and applied them to his forehead, back of neck and armpits.
Ucun was nearly unconscious, but every 5 minutes or so, his small body writhed in pain as his body cramped, his hands and feet clenched. Yati whispered his name gently to him over and over, coaxing him to pull through the seizures. And they would stop, and we'd sigh a sigh of relief that it was over this time. But minutes later, they began again.There was little more I could do. I knew Ucun was in the best hands. Yati has worked with us since the beginning, and has nursed countless orangutans through their toughest days. The medics were visiting regularly, and second test for malaria was being run, the first having been negative.
I'd been asked to take some photos of some of the others in nursery, and being my last day at the project, I knew this had to be done. I left Ucun with Yati and a second babysitter and went to nursery forest to photograph the charming antics of the likes of Diego and Pickle. It was raining hard outside, so the whole group was in, and we had got out loads of toys that squeaked and rattled and sang, and Kle was doing his best to beat them all unconscious. Pista used a towel to dress up as Mother Theresa, and Nita sucked on the ears of a toy elephant.
The 2 babysitters with me were so good with the orangutans, and gave them so much love and attention.
Just then Hanni walked in, looked at all of us and said "Ucon baru meninggal" – "Ucun has just died." How quickly joy turns to heartache with just 3 words.
Silence descended on the room, as each of us looked at the other. Indonesians seldom cry in front of others. But tears welled up in the eyes of Hanni and both the babysitters. The babies played on, not noticing the despair, as we wiped our eyes.
The doctor carried Ucun's body back to the clinic in a sarang, and Hanni invited me to see Ucun one last time. She also let babysitter Dewi know that Ucun's body had arrived from nursery. Dewi was Ucun's favourite babysitter, and Ucun was Dewi's favourite baby. In the moments before we stepped into the autopsy room, Dewi and I embraced, and she broke down, "I have known Ucun since he was the tiniest baby. He is so precious."
Ucun's body was lifted from the deep freeze, onto the table, and Dewi gently unwrapped the sarong from the still body. He looked perfect. His eyes were open and his mouth slightly opened, and his body looked relaxed. He hadn't died in seizure. He wasn't blue – he was just the colour he should have been, just the colour he had been hours before. He was only slightly cool to the touch and his skin so soft like velvet.
And it all seemed so very, very wrong. We said goodbye to Ucun, Dewi wrapped him up again, cradled his lifeless body in her arms and kissed his head before handing him back to the doctor. And now, as I write, the tears run down my face and I can find no words to describe the loss and pain when someone so innocent and young should suffer and die. All I can do is write what happened, and hope that someone out there will read this and understand and care, and agree that it is so very, very wrong.
Michelle Desilets, International Campaigns Director Borneo Orangutan Survival International http://www.savetheorangutan.org