An Orangutan call Aox
28 October 2009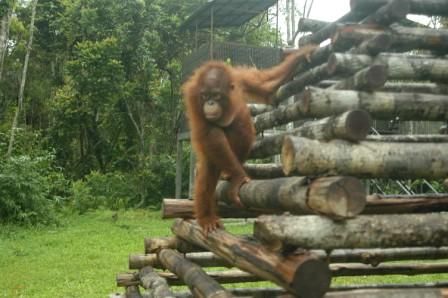 On the 13 Oct 2009 confiscation team of BOS Nyaru Menteng received a report saying that a local Palangkaraya citizen wanted to hand over his orangutan pet. The grapevine of trust that Lone and her staff have built up with the local over the years have proven valuable to the efforts of BOS; to get as many Orangutans out of poor or desperate conditions as soon as possible and into our care for rehabilitation. So, with all the necessary details and clearance from the Ministry of Forestry, Heldy, Amed & Ali Munthaha headed to rescue of yet another victim of rainforest clearance.
In the house they found a male young orangutan, about 2-3 years old age. He was in relatively good physical condition with a body weight of about 15 kg. However he was kept in a small iron cage measuring  1.5 m x 1 m x 0.5 m high. 
According to the "owner", Aox had been kept there for about 6 months. He had received him from a timber company in Barito. His mother was found dead hit by a tree during logging of the area.
Now Aox is in the quarantine cage in Nyaru Menteng Centre while he undergoes medical tests.  Once complete, he will be able to join his peers in the Baby School Group. Having been kept alone in a cage with limited ability to move, Aox will have missed out on vital schooling from his mother and needs to learn some basic orangutan skills before he can be promoted to Forest School to again climb trees.
November marks the tenth anniversary of Nyaru Menteng which has been the lifeblood for so many orangutans like Aox.
To all our adoptive parents and donors, thank you for giving these babies a second chance.