Five wild Orangutans return to their natural habitat
Press Release: 8th August 2014, BOSF
Five wild orangutans who were rescued from an oil palm plantation and residential area by the Borneo Orangutan Survival (BOS) Foundation are translocated to an Ecosystem Restoration Concession (IUPHHK-RE) managed by PT Rimba Makmur Utama (PT. RMU), Katingan Regency, Central Kalimantan. After being cared for at the Borneo Orangutan Survival Foundation Rehabilitation Center in Nyaru Menteng for more than one year, they can now return to suitable and safe natural habitat.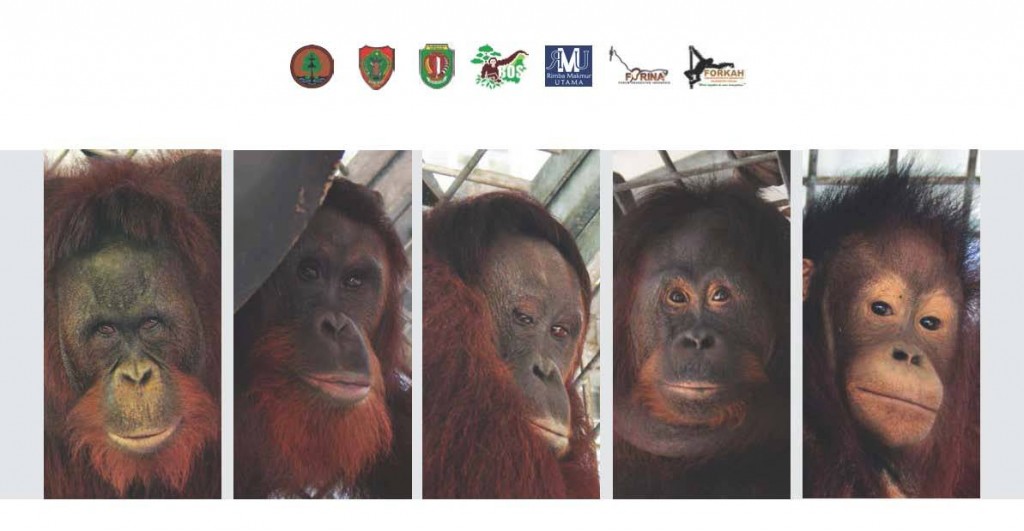 Nyaru Menteng, Central Kalimantan, 8 August 2014. Four wild orangutans, Surya (male), Buri (female), Cemerlang (male) and Neno (female) were rescued by the BOS Foundation team in Nyaru Menteng from critically threatened land within an oil palm plantation in Katingan Regency, Central Kalimantan through a Rescue and Release operation which took place on 18-20 February 2013. Due to the difficulties in finding suitable and safe forest, these four orangutans had to live for more than one year within the BOS Foundation rehabilitation center in Nyaru Menteng.
Through cooperation between the BOS Foundation and PT. RMU, the four wild orangutans were translocated to the IUPHHK-RE area belonging to PT. RMU in Bakumin River, Muara Bulan, Mendawai, Katingan Regency, Central Kalimantan.  In addition to to the four wild orangutans, a six year old male orangutan, Ketimpun, was also translocated to the same area.  Ketimpun was rescued by the BOS Foundation on 21 February 2013, from Petuk Katimpun village.
Dr. Ir. Jamartin Sihite, the CEO of the BOS Foundation, stated, "The BOS Foundation is committed to saving orangutans from critically threatened habitat and return them to suitable and safe habitat for their long term conservation.   This requires support from many parties, especially those who can provide suitable forest for the orangutans to survive into the future.  PT. RMU is one of the companies managing an Ecosystem Restoration Concession (IUPHHK-RE) which are committed to protect the forest and orangutans hence the BOS Foundation is able to confidently translocate these five wild orangutans which were rescued from oil palm plantations to PT. RMU area."
Rezal Kusumaatmadja, the COO of PT Rimba Makmur Utama, stated that PT. RMU is committed to the restoration of peat swamp forest and the protection of biodiversity. "PT. RMU as a holder of an Ecosystem Restoration Concession license strives towards forest restoration and conservation thus is able to provide suitable and safe habitat for many kinds of protected flora and fauna, one of them being the Endangered Bornean orangutan. We realize this commitment by signing a long-term cooperation agreement with the BOS Foundation to support the translocation of wild displaced orangutans into the area of PT. RMU."
Dr. Hendrik Segah, S.Hut., M.Si., The Head of the Central Kalimantan Orangutan Conservation Forum (FORKAH) fully supports the translocation event. "FORKAH bridges the cooperation between orangutan conservationists and private parties in saving orangutans who have been displaced from their natural habitat and returning them to safe and suitable forests as part of the conservation activities stated in the Indonesian Orangutan Conservation Strategy and Action Plan 2007-2017."
In accordance with national and international standards for responsible orangutan releases, the five orangutans have received unique chip implants to facilitate their identification. Since they are wild orangutans, they will be monitored for five days after translocation to their new home in the area of PT. RMU to ensure their wellbeing.
Orangutan release or translocation cannot be completed successfully without the availability of safe and suitable habitat for the orangutans. With the challenge in finding the suitable forests for orangutan release, the BOS Foundation hope for more concerned private parties who will support the effort of orangutan conservation by providing part of their concession areas for conservation.