Express: Amanda Riley-Jones: 28 September 2013
AFTER 17 years of saving orphaned orangutans in Borneo the former air stewardess who gave up everything to protect the animals is now starting to release them back into the wild.
It was the momentous event Lone Droscher Nielsen had been envisaging for 17 years. Everything she'd worked for had been leading to this: the release into the wild of the orphan orangutans she and her colleagues had reared from babies.
For the former air stewardess it was the heart-warming culmination of many years of work that had brought her here to Borneo on a mission to save these animals' lives.
Further months of planning to transport the apes to this remote spot by boat, plane and helicopter had also gone into this moment. Now the team of project workers took turns to open the animals' individual travel containers.
One by one, the apes headed for the treetops.
Like a proud mother Lone watched as one of the orangutans, an 18-yearold called Emen, climbed into the canopy of trees and started making a nest. Lone thought back to the pitiful youngster she first met 14 years previously – another of the many victims of hunters and poachers who kill orangutan mothers to steal their babies to sell on in an illegal pet trade.
"Her owner was bragging that he'd cut the fingers off her right hand because she'd stolen some eggs," Lone recalls now. But Emen could have got her injuries when her mother was hacked to death with machetes. We'll never know."
Speaking from her home in Monmouthshire, Wales, Danish-born Lone adds: "Emen was the sweetest character and worked so hard to learn to climb using her stump and thumb.
"Seeing an animal freed touches something so deep inside, especially as I'd known these individuals for most of their lives," she continues, recalling the day of the animals' release, soon to be seen in a new TV documentary.
Nor will Lone, 49, forget releasing 17-year-old Leonora, who calmly strode to the nearest tree and climbed to freedom with son Lamar "clinging on for dear life". Looking up at her Lone remembered the sweet-faced three-year-old she had named after her own grandmother.
"When we went to confiscate her from her owner, I saw my grandmother in her face," says Lone. "Leonora was such a gentle soul. I worried she would always be too tame. But here she was proving me wrong.
"I got so emotional I had to walk away from the film crew making the documentary. For any mother the hardest part is letting go." What particularly concerned Lone was whether the animals – so accustomed to being fed and cared for – would be able to survive on their own in the wild.
"That night I didn't want to be at the camp with all the pots and pans and people talking. I felt happy, relieved and afraid at the same time. I slept at the release site in my hammock."
Since 1996 Lone has dedicated her life to saving orangutans nearing extinction. It couldn't be further from the carefree life she had in her 20s – au pairing in California, working as a chef on a yacht and travelling the world as an air stewardess.
But three months on a volunteering holiday at a rescue centre for confiscated pet orangutans changed everything. She learned how babies literally cling on to their mothers for their first eight months. But poachers were hunting down females to kill them and steal their babies to sell on as pets. The majority died in transit to other countries. The lost little souls in the sanctuary were the lucky ones.
"When I hold a baby that has witnessed the killing of its mother I cry for the fear they have both felt. It is heartbreaking to see motherless infants. When you look into their eyes you see such knowing intelligence."
She had found her calling. She left her job and flat in Berkshire and bought a one-way ticket to Borneo. Back at the sanctuary she met and fell in love with Odom, a handsome local Dayak (native of Borneo) who worked as a researcher. Lone's parents flew out for their traditional wedding in 1997 and they moved into a hut with no water or electricity. "We had cushions on the floor and candles. It was so romantic," she says.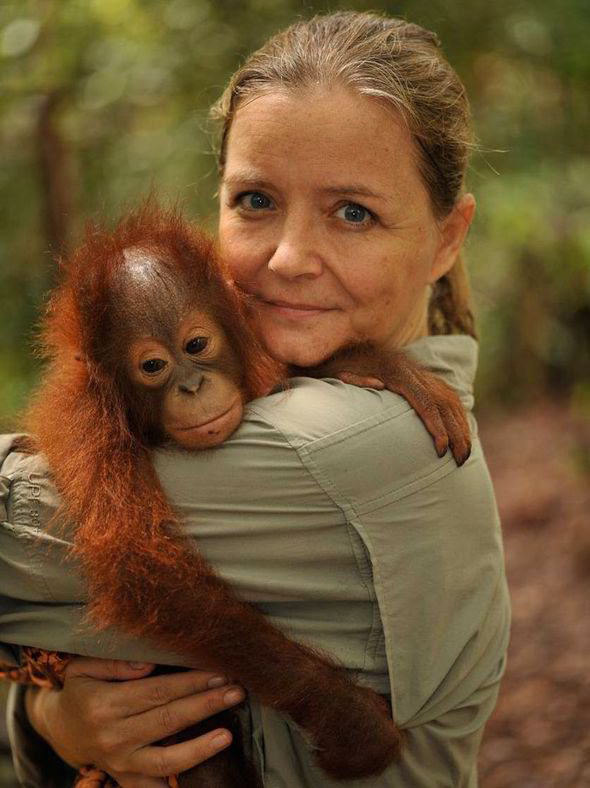 Lone made it her mission to nurture orphan orangutans such as Leonora (Free Pic / Amanda Riley]
Two years later, backed by the Borneo Orangutan Survival Foundation, the couple co-founded the Nyaru Menteng Orangutan Reintroduction Project. The black market pet trade was savage enough but the situation became dire with the relentless destruction of Borneo's rainforests for timber and palm oil plantations. Orangutans only survive on the islands of Borneo and Sumatra and experts fear 98 per cent of forests there will be destroyed by 2022.
WITH the trees gone orangutans were easier targets for hunters, with around 5,000 being killed every year. "We were in a race against time. We were facing a massacre of our nearest cousins," says Lone. The centre reached bursting point with 600 apes.
Lone's mission has always been to release these apes into the wild and the centre has an ingenious rehabilitation programme with local women working as round-the-clock surrogate mothers. "I realised that orangutans are elike children, they become more independent the more love they receive early in life," Lone explains.
As babies they are held and comforted by the women, who stay with them through the night and even give them bottles and change nappies. Next they go to "Forest School" for lessons in survival. The young pupils must learn that they belong up in trees and have to master finding fruit, avoiding predators and nest-building. At the age of six they are ready to move to one of the centre's islands. Apart from food deliveries, human contact is gradually withdrawn to prepare them for eventual freedom.
Not surprisingly, the stress of all this took its toll on Lone's health. Her immune system collapsed and she had a string of serious illnesses, culminating in kidney failure. "I was so ill there's one year I don't remember," she says. When hospital doctors ordered her out of the tropics she reluctantly returned to the UK in 2010 in a "pit of despair".
Lone has now made her home in Monmouthshire's Wye Valley where she lives in a converted stone cow shed surrounded by 10 acres of meadow and forest. "Coming from Indonesia I want to see nature and trees," she says, stroking Harvey, her Labrador cross rescue dog.
She and Odom split up in 2002 and divorced five years later. "He wanted children but I already had hundreds of little ones who needed me. Like a female orangutan I am good on my own," she laughs.
SHE is now special adviser and fundraiser for Nyaru Menteng and the Save the Orangutan charity and her health is withstanding a third of the year back in Indonesia. It has been a huge task to find a safe place to release the animals.
"Almost all the lowland forest has been cut down now," she says.
Finally in 2012 the government approved the release of several hundred orangutans into the government-owned Bukit Batikap Conservation Forest, three days by road from the centre.
Thirteen orangutans were chosen for the first momentous release: seven rehabilitated adults, five young ones and a feisty young male who'd been born out on the islands. They went through two months of health checks and quarantine and were fitted with subcutaneous radio transmitters to track them.
On the big day, most needed darting or sedating but Leonora calmly walked into her travelling container carrying her infant. So it made her transition into a wild orangutan even more remarkable. Although she occasionally comes down to the ground, sometimes making eye contact or moving a small distance towards the monitoring team, she has had no contact with humans since the day of her release. "Finding food has become more important," explains Lone.
"I am so proud of them all, particularly my girls," smiles Lone. "They are not just looking after themselves they have proved to be very good mothers too." Another 33 rehabilitated orang-utans have been released in the past 11 months and are all flourishing.
"We have another 100 at the centre waiting to be freed. But we don't have the money to do it. We are desperate for donations."