Orangutan rehab slow but thorough
Jakarta Globe, Fidelis E. Satriastanti | January 25, 2012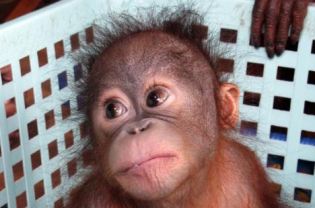 Samboja Lestari, East Kalimantan.
If a rehabilitation center meant to prepare orangutans for release into the wild is still packed with the apes, then the effort to protect the species has not been good enough, a leading conservationist says.
"If the rehabilitation center takes in more orangutans than it releases, that means we've failed," Aschta Boestani Tajudin, the East Kalimantan regional program manager for the Borneo Orangutan Survival Foundation, said during a recent visit to the BOSF rehabilitation center in Samboja Lestari.
"If we were to succeed, then this center would be closed down," she said.
Since the 1990s, BOSF has worked to rehabilitate captive orangutans and reintroduce them back into the wild. It now has a total 850 orangutans in rehabilitation — 650 at a facility in Nyaru Menteng, Central Kalimantan, and 200 in Samboja Lestari.
First, Quarantine
At the Nyaru Menteng facility, previously captive orangutans have to go through several steps of rehabilitation before they can return to their native habitat.
"The first and second steps are quarantine and socialization, which run for years," said Denny Kurniawan, the program development leader for the BOSF in Nyaru Menteng.
"It's during those stages that we familiarize them with their wild habits again."
It's a costly process. The foundation spends $3,500 a year for each orangutan in its care.
"That doesn't include the cost for treating them if they fall sick," Aschta said.
"If you're going to release them, you need them to be healthy. Orangutans are easily infected with human diseases when they live among humans.
"Two common diseases are tuberculosis and hepatitis. You can never fully cure an orangutan of TB once it's infected, and it's contagious. If we find one orangutan with TB in a pack of 20, then the others must also go into quarantine."
A single TB test for an orangutan costs Rp 550,000 ($62) and they must be carried out every three months.
Then, Retraining
Another cost is that of retraining the animals.
"Many of the orangutans that are sent to us act like humans because they are used to being around humans, and this isn't good for them because it erases their basic instinct as primates," Denny said.
To fix this, orangutans are taken to a group of small islands in the Sei Gohong River. These include the 108-hectare Kaja Island, where 45 orangutans are now undergoing rehabilitation for a year before they can be considered fit for release.
The long and painstaking rehabilitation process, Aschta said, is necessary to reverse the negative influence that humans can have on orangutans in captivity.
"Orangutans imitate what we do. They know just by watching us," she said. "It's so sad to see them being humanized. They can learn within months, but it takes many years to restore their original behavior."
The orangutans receive training on finding food and building nests at the "forest school." But only those who are less than 14 years old are eligible to return to the wild because the older ones don't learn as easily.
"Releasing those that can't build a nest is the same as sending them into a killing field," Aschta said.
The rehabilitation center has taken care of more than 600 orangutans since it was established in 1998.
"We keep receiving more orangutans from people, but sadly we sometimes have to reject them because we have limited space," Denny said.
The rejected animals are usually turned over to the local authorities.
Finally, Release
Of the 850 orangutans in the BOSF's care, around 600 are ready to be set free while the rest are not considered healthy enough to survive in the wild.
The foundation last released 30 of the apes in the Meratus Mountains in South Kalimantan in 2002. Now it plans to let six go in East Kalimantan this April.
Its target, however, is to release all the captive animals by 2015.
Aschta said progress was slow because the foundation needed to find the right kind of habitat for the orangutans.
"There's a misconception that orangutans just need virgin forest. They also need secondary forest and swamp areas," she said. "They need a habitat that is 20 to 30 percent primary forest to make nests, but there should also be secondary forests for them to find food and socialize.
"Most importantly, however, is the need to ensure security, to guarantee that those areas won't be converted within 30 years. In Indonesia, though, policies change when officials change."
Orangutans, Aschta said, were an umbrella species, which meant they had a very wide scope of habitat. "So if we protect them, we can protect other species in that habitat," she said.
To provide suitable habitats, the BOSF set up the company Restorasi Habitat Orangutan Indonesia (Indonesian Orangutan Habitat Restoration), which was granted a concession for 86,000 hectares of land in East Kalimantan. The permit cost Rp 13 million.
*
"We get our funding from outside donors," said Bungaran Saragih, the BOSF founder. "It's a bit ironic that most of it comes from abroad instead of from our own people."
For its next release in April, the BOSF plans to rent helicopters, at Rp 60 million an hour for nearly four hours, to transport the six orangutans to their new habitat.
"The last time, when we released 30 orangutans, it didn't turn out very well, so we're trying to release them in smaller groups," Aschta said.
"It was a very hard journey because we needed to walk six to eight hours, carrying the cages deep into the forest. But now we'll use helicopters and keepers will check on the cages regularly."
*
nb. The cost of the purchase of the 86,000 hectares was just over one million Australian dollars with a substantial amount coming from Australian donor John Cochran and the supporters of BOS Australia'