Orangutans in captivity in dire need of jungle home
The Jakarta Post: Adianto P. Simamora : 22/09/2010 

Orangutans are the only great apes native to Asia, with most now only found in forests in Kalimantan and Sumatra. The species is still under threats due to ongoing habitat loss. The Jakarta Post's Adianto P. Simamora joined a trip with Forestry Minister Zulkifli Hasan to get a glimpse into the life of orangutans held in captivity in Central Kalimantan. The following is the report.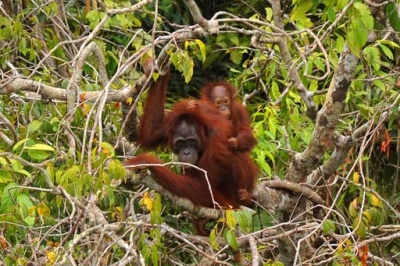 Ready for the wild: A mother orangutan and her baby sit in the open at Nyaru Menteng rehabilitation centre in Central Kalimantan. The centre is home to more than 600 orangutans that were previously held in captivity and readies the animals to be released into the wild. Antara / Saptono.
Faizah, a second-grade student at a forest school in Central Kalimantan, stretched out her hand to Minister Zulkifli, who handed her some bananas. She took it, giving the minister a blissful look.
Her mood changed quickly, however, when visiting journalists approached to take her picture, Faizah threw the bananas, she even spat at the minister.
Faizah is a five-year-old orangutan who has been living in a cage at Nyaru Menteng rehabilitation center in Central Kalimantan for about a year.
Another "student", sixth-grader Ketty, has been called one of the smartest orangutans of her age, as she quickly adapted to life in the wild. She put behind human habits such as eating rice and drinking tea forced on her during captivity with relative ease compared to her peers.
After four years of living in a cage, Ketty, a one-handed orangutan, could climb trees and gather food from the forest.
"She was quick to adopt the training on surviving in the forest," John Leo, an orangutan trainer at the Nyaru Menteng rehabilitation center, told The Jakarta Post.
Faizah and Ketty are among the 613 orangutans being trained at the Nyaru Menteng.
Most of the animals at the center were previously exotic pets. Most were less than 10 years old before coming to the school. The others were brought in after they were forced out of their habitats by firms clearing forests.
At the rehabilitation center, the orangutans are groomed to interact with peers and trained to survive in their previous jungle habitat.
They were also trained to build nests, gather food and recognize predators.
"We train baby orangutans - those less than two years old - to climb trees and play in the jungle from 7 a.m. to 4 p.m. every day," John said.
"We help them adapt by reducing contact with humans."
The orangutan forest school is divided into four levels: a kindergarten designed for orangutans less than two years old; an elementary class for those between the ages of two and six years; the forest class for those between the ages of six and eight years, and an advanced class.
The orangutans in the advanced level are set free in a temporary shelter in the forest, but are monitored daily by trainers.
During a two-and-a-half hour boat trip along the Rungan River, dozens of old orangutans could be seen swinging from trees along the riverbank.
John said trainers still had to supply food by placing it in different locations throughout the forest.
Fransiska Sulistyo, a veterinarian at the center, said it was not easy training orangutans over the age of eight.
"They have been conditioned to the extent that they are too lazy to get their own food," she said.
Apart from veterinarians such as Fransiska, the school also employs 99 trainers for its 613 orangutans. The female trainers are called "baby sitters" while the male ones "technicians".
Fransiska said orangutans in captivity were also prone to infectious diseases including the three most common types of hepatitis and tuberculosis.
The Nyaru Menteng rehabilitation center was developed by the Borneo Orangutan Survival Foundation (BOSF) to reintroduce domesticated orangutans to the wild before being released into forests.
The foundation said it spent US$3,500 per year to treat each orangutan and that most of the money came from foreign organizations.
The BOSF, founded in 1991, is a non-profit organization operating under an official agreement with the Forestry Ministry on the conservation of the species and its habitat. It has also set up another rehabilitation center in South Kalimantan.
Former forestry and agriculture minister Bungaran Saragih chairs the BOSF's board of trustees.
The Forestry Ministry issued a license to restore 86,450 hectares of former timber concession area in East Kutai, East Kalimantan, in which to release the rehabilitated orangutans, a program that was expected to start in April.
But orangutans in Central Kalimantan have to wait a little longer at the center.
The BOSF proposed allocating 200,000 hectares - possibly including rehabilitated timber forests - to release orangutans in Nyaru Menteng.
BOSF executive director Togu Manurung said the BOSF was negotiating with timber company PT Akhates Plywood to release the Nyaru Menteng orangutans.
"If we clinch an agreement with the company, the first release could be in November," he said.
Zulkifli has promised to do all in his power to protect orangutans.
Indonesia is home to 90 percent of the world's orangutans, with 54,567 in Kalimantan and 6,667 in Sumatra.
The remaining 10 percent are in Sabah and Sarawak in Malaysia.
The government said that in the last 35 years, 50,000 orangutans died due to deforestation and loss of habitat.
Indonesia, the third-largest forested nation with 120 million hectares of forest, loses more than 1 million hectares of forest each year due to illegal logging, forest fires and land encroachment.