25th February 2015
BOS Australia urgently require $3,500 for our recently rescued baby orangutan, Meryl.
This amount would cover her veterinary and nursing requirements over the coming weeks. While she is showing initial signs of improvement this first month of care is critical. Read Meryl's full story below.
Donate via Paypal or BOSA Website
13th February 2015
This is a story about vet Meryl meeting Meryl the orangutan, the first Nyaru Menteng rescue of the year.
In the early morning of January 7, 2015 our team from the Nyaru Menteng Rehabilitation Center and the Conservation of Natural Resources Authority of Central Kalimantan, Borneo, went to Tumbang Jiga Village after receiving news about an orangutan baby kept by villagers. Tumbang Jiga Village is located deep in the remote area of Katingan Regency.
The baby orangutan was found in a very poor condition. She was weak and thin. The owner put her in a lanjung, a Dayak traditional bag made of plaited rattan, usually used for carrying crops or firewood. She could barely move inside the bag.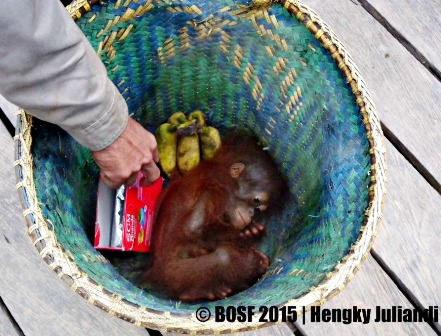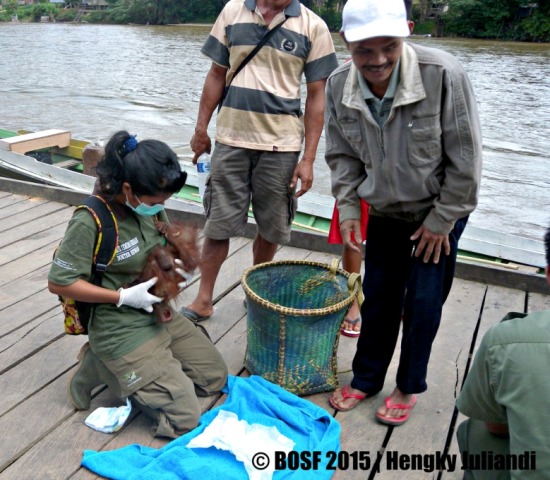 Meryl Yemima, our veterinarian at Nyaru Menteng, quickly lifted up the small orangutan, covered her with a warm blanket, and gently carried her. The team managed to confiscate the orangutan and took her to Nyaru Menteng's clinic for further treatment. During the trip back to the center, the baby orangutan occasionally let out sobbing sounds from vet Meryl's arms. The trip took around 8 hours.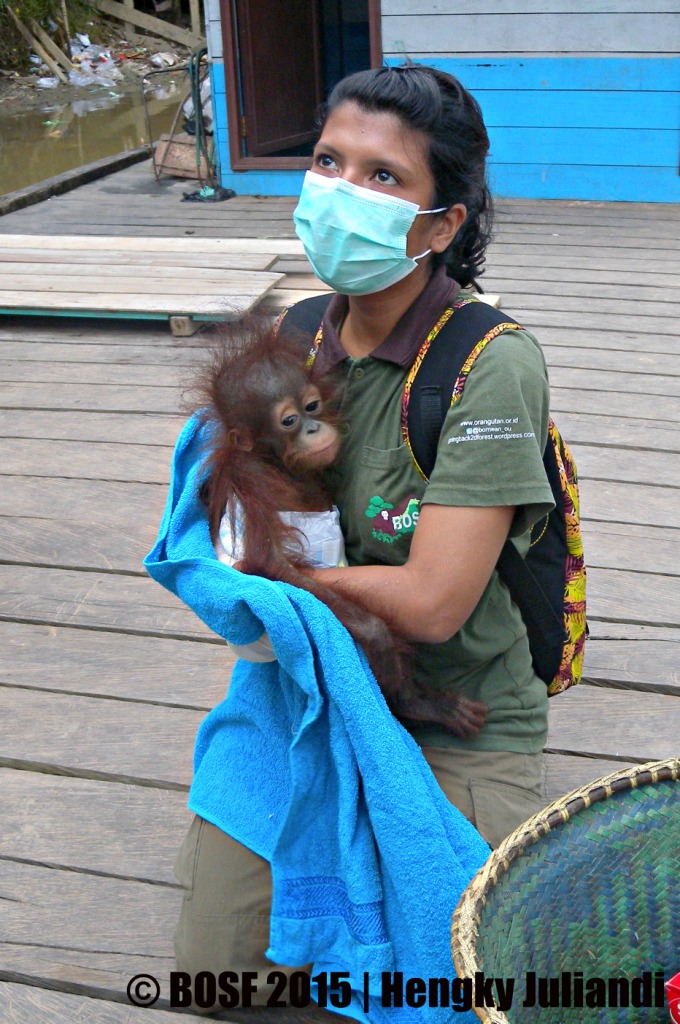 Meryl and Meryl
Initial examination by vet Meryl showed that the baby was approximately 8 months, yet she had spent the last 6 months in captivity. She was named Meryl, after the vet who lovingly had taken good care of the baby orangutan from the day she was rescued.
At Nyaru Menteng, little Meryl could not instantly join the nursery group (a group for baby orangutans). She has to go through a quarantine process to determine her health status. We hope that Meryl can soon join her peers in the nursery.
Text by: Monterado Fridman, Communication Coordinator at BOSF-Nyaru Menteng

UPDATE: 20th February 2015
Thanks to loving care and treatment by the Nyaru Menteng team now Meryl is becoming healthier and happier. She has gained 2 kg!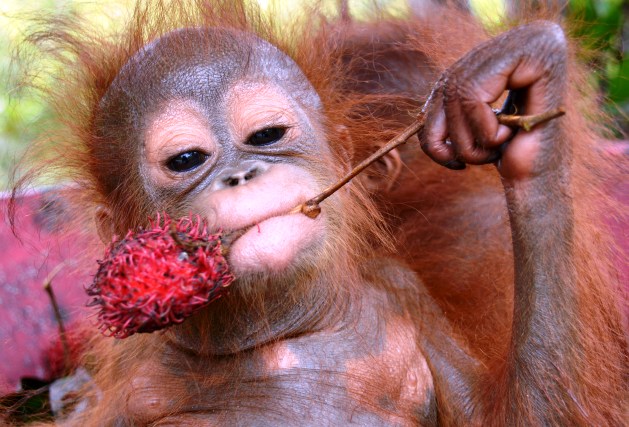 Image by Hengky Juliandi 2015
Read more about threats to orangutans >>
Read more about our rehabilitation process >>
Help us save the orangutans by adopting >>
Help us save the orangutans by donating >>