The Forest is Tiny's Smorgasbord
Our PRM team recently ventured into the dense Kehje Sewen Forest on a cold morning in search of Tiny, whom we last saw with Ajeng. The gloomy weather failed to discourage us from negotiating the challenging forest and monitoring released orangutans.
After several hours of climbing up and down hills, and crossing rivers, we finally located Tiny sitting atop a tree, eating bark. He looked healthy, well-fed, and comfortable up in the trees; clearly, Tiny had adapted well to life in the Kehje Sewen.
His favoured food for the day appeared to be bark, which he didn't stop eating for four hours straight. He looked content and relaxed in the tree branches, eating bark and moving only intermittently to dangle and reach for more bark.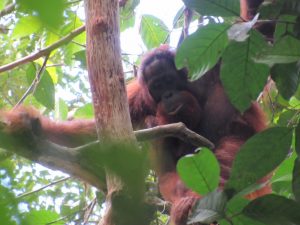 Once satisfied with a full belly, Tiny continued his exploration of the forest, stopping only when he found fruits he liked. Finally, he was so full he had to take a rest. Not long after Tiny stopped to rest, we heard something move in the forest. The sound even woke Tiny from his daytime nap. It came from a wild boar, which are seldom found in the Kehje Sewen Forest. Knowing there was no danger, Tiny rested his head once more and went back to sleep.
At around 4 p.m., Tiny started to build his night nest. It only took him a couple of minutes to complete, and he quickly fell asleep in it. We headed back to the camp, satisfied to see that another of our released orangutans was thriving in the forest.
It was wonderful to see Tiny active and living a good life in the wild – he certainly impressed us with his foraging skills! Stay healthy, Tiny. We hope you keep enjoying your life in the forest.
Text by: PRM team in Nles Mamse Camp, Kehje Sewen Forest