The tough men of the BOS Foundation
17 July: BOS Foundation

The heat of the sun never dissuades the BOS Foundation's animal care technicians and never stops them from doing their activities. After lunch, these tough men pick up their equipment and simply return to work. But today was a bit different than other days. They returned to work bringing machetes and pitchforks, and they headed not to the orangutan enclosures, but to Island 6, one of the orangutan pre-release islands in Samboja Lestari, East Kalimantan. Apparently, today was a "wet day" as Island 6 got the first turn to be cleaned. One by one, the technicians plunged into the river and began cleaning up the island.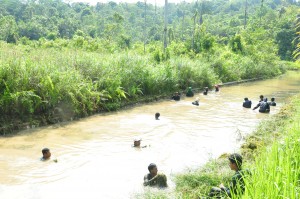 While working, they joked and teased one another. Seemingly, the jokes did wonders to raise their spirits and relieve them from the heat of midday sun. Slowly but surely Island 6 started to look a lot cleaner, free from weeds. The orangutans who reside in Island 6 only watched from afar. One could only speculate what they were thinking. Maybe they were laughing at the technicians or were wondering why these humans were so willing to get all dirty and wet in this scorching heat.
The farther they explored Island 6, the less visible they were. At first, they were seen immersed to their waists, then to their chests, and finally only their chins were visible from a distance. Their jokes turned into warnings, reminding one another to be extra careful as they had reached a deeper part of the island. Even so, they still gave these warnings light-heartedly, ridiculing one another as usual, like "Hey Watch out if you're below the national standard height or you might drown!" The joke was obviously directed to those who were a bit short…and simultaneously, they burst in to laughter.
Time flew and evening approached. Leaving Island 6 all cleaned and tidy, they took a shower and went to the enclosures or returned to the islands to perform their final task of the day, which was feeding the orangutans. It was like they never ran out of steam. Indeed, it is appropriate that they are dubbed the tough men of the BOS Foundation.
By: Suwardi - Samboja Lestari Communications Officer