Topan Making All The Right Moves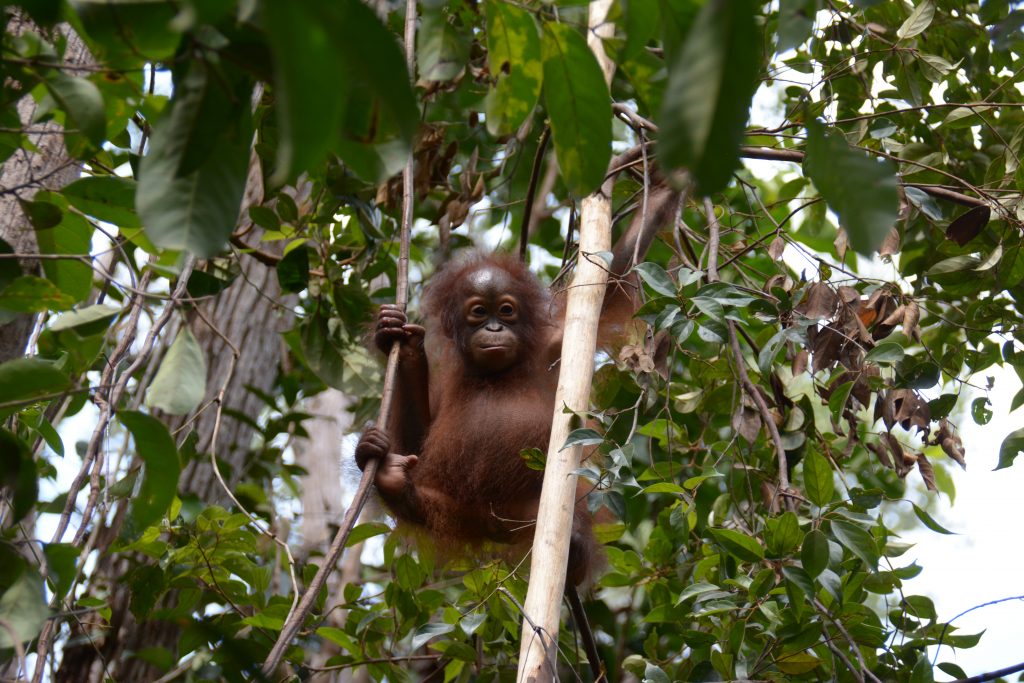 Topan was handed over to the BOS Foundation by the Central Kalimantan BKSDA on October 13, 2017. She was only 8 months old when she was rescued from Sigi Village, Pulang Pisau Regency, Central Kalimantan, where local villagers claimed to have found her weak and alone by a river bank.
Not much was known about Topan's past, but a medical examination performed by our accompanying vet revealed that she was suffering from severe dehydration and malnutrition, and weighed only 1.5 kilograms. Topan was brought to our Nyaru Menteng rehabilitation center, where she was placed in quarantine to recover.
Nine months after her arrival, 17-month-old Topan is now a member of Forest School's Nursery Small Group. Here she has started to develop survival skills alongside her peers, Mema, Ucup, Zahri, Bumi, and Jacqui. She was somewhat of a loner in the beginning and avoided socializing with others. However, she has slowly grown to become a friendly, brave climber, and shows little hesitation when ascending tall trees or dangling from high branches in Forest School.
Arga Sawung Kusuma, our veterinarian-in-charge at Nyaru Menteng, said; "Even though Topan is comparatively smaller than everyone else, she is much braver. She once shocked us by climbing all the way up a 15-meter-tall tree! We were worried she would be too terrified to climb down, but she climbed down without much trouble at all. She just went ahead and did it!" This fearlessness is a clear indication that Topan is developing wild behaviours.
Topan in Nursery Group
Vet Arga also said that Topan is in excellent health; "She had a fever a few days ago, but she is now okay and back to displaying outstanding wild behaviours. We are so proud of her significant progress".
Our team will continue to guide Topan as she hones and masters all the survival skills she will need to later live in the wild. Like all orangutan babies that come to our rehabilitation centers, Topan still needs a lot of attention and loving care to help her successfully complete the rehabilitation process. She will be a great female orangutan one day in the forest, we are quite certain of that!
Text by: BOS Foundation Communication Team
Help us save Topan and other orangutans! DONATE NOW