Orangutans swim to safety
Orangutans swim to safety
Borneo Bulletin: March 17 2009
Orangutan mother grabs the rope bridge thrown to her.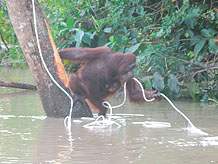 She begins her descent from the tree while holding onto the rope. Her baby can be seen clinging tightly to her.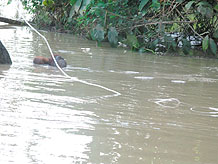 The mother makes sure heads are above water while she swims to safety.
 
 
 
 
 
SABAH – Desperate times calls for desperate measures. Wild orang-utans spend 90 per cent of their time on treetops, and very rarely descend to the ground, unless disaster strikes, according to a press release.
A WWF-Malaysia field staff in Lower Segama recorded a series of photographs illustrating the rescue of a wild orang-utan mother and her baby who had been hanging on to a tree for a week due to flood in the area.
A unit from the Sabah Wildlife Department was rushed to the site and a rope bridge was immediately set up about four metres from the shore.
Previous documentation had stated orang-utans to be non-swimmers, supposedly due to their fear of water. However, this new discovery shows that orang-utans are actually able to swim in desperate situations, with the help of a tool.
Last month, Sabah received a high record of rainfall, which undoubtedly affected the wildlife in some lowland areas.
Photos: WWF Malaysia