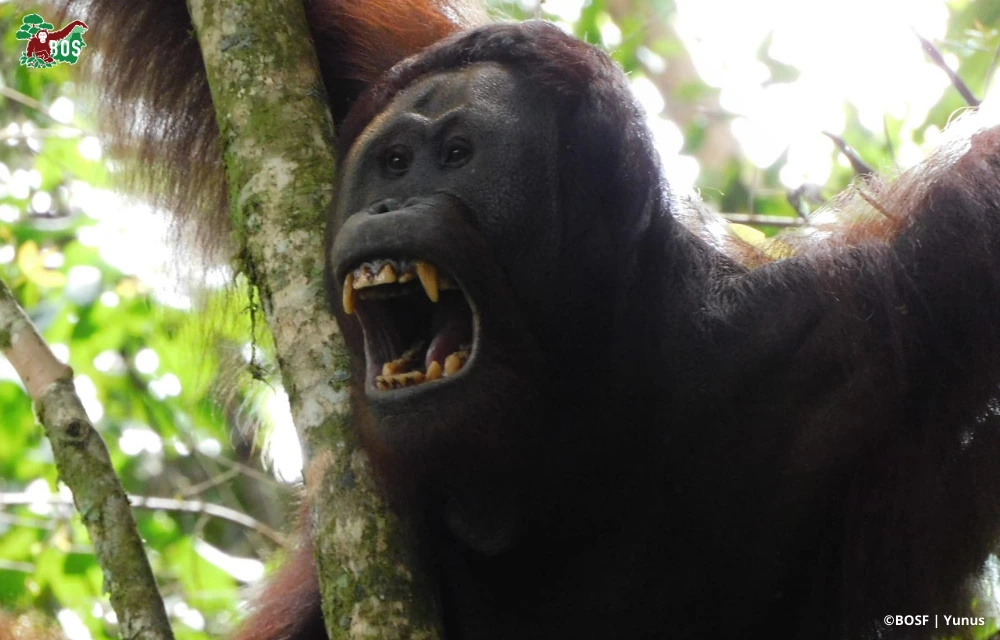 Our Post Release Monitoring (PRM) team awoke to a sunny morning as they prepared to undertake a routine patrol in the forest. As usual, they departed from Camp Nles Mamse for the day's expedition. Yunus and Ransik set off to explore transect 16 at eight o'clock in the morning, just as the birds began to sing.
Two hours passed quickly, and our team observed various signs of orangutans present in the area. Not far from the tract, they finally saw the long-awaited: Suluy, a wild orangutan recently appearing in areas close to the main transect. Previously, the team often spotted Suluy with Signe's family. Now, they found and monitored him alone.
Suluy looked comfortable on top of his nest, about four meters off of the ground. Our PRM rangers recorded every movement, action and Suluy's body condition score (BCS), which was a three. This score indicates that his physical condition is good and his weight ideal.
However, Suluy did not just stay in his nest. The orangutan began to move swiftly through the trees, exploring branches and foraging for natural foods. He seemed to enjoy the fruits of the Mahang tree (Macaranga sp.), chewed on the tops of the Combrang plant (Etlingera elatior) and grabbed the young leaves from the tips of the branches for a snack. 
The sun sank as the PRM team followed Suluy along the main transect. In the dwindling light, Suluy suddenly turned and disappeared, leaving Yunus and Ransik alone with the thousands of insects singing their evening chorus. Heading home with tired steps, our PRM team finally returned to the camp and rested after a long day. 
Live well in the forest, Suluy. We cannot wait to see you become an accomplished explorer!
If you want to support our work, please consider adopting or donating.