Habitat Restoration Program
RHO (Restorasi Habitat Orangutan, which translates as 'Orangutan Habitat Restoration') is an independent organisation established by the Borneo Orangutan Survival (BOS) Foundation in 2009.
The sole purpose of the organisation is to provide a permanent safe, sufficient forest site for wild or semi-wild, and rehabilitated Bornean orangutans. In this protected forest they can live in freedom, and establish a new, viable wild population to bolster conservation of this endangered species.
Suitable Forests for Orangutan Reintroduction
Rehabilitated orangutans, while self-sufficient, can rarely be as forest-competent as the wild orangutans who have spent all their lives in the wild. Strict national and international (IUCN) criteria exist for orangutan reintroduction, which our programs follow. These include:
Orangutans must be reintroduced into an area with either no or a low (non-viable) population of existing wild orangutans (0.1 individual per square kilometre), within their historic range.
The forest must be suitable lowland forest (up to 900 metres above sea level); unfortunately most remaining healthy forests in Indonesia now only exist in higher altitude areas due to land conversion and forest degradation.
The forest must be secure; not in danger of imminent threats of conversion and as far away as possible from human settlements, yet accessible for the team to conduct the actual reintroduction and post-release monitoring.
Subspecies appropriate locations – meaning East Kalimantan orangutans cannot be released in Central Kalimantan or other forests outside East Kalimantan. Central Kalimantan orangutans cannot be released in West Kalimantan, etc. To ensure this, the release candidates must go through DNA tests to determine their subspecies.
Finding a suitable forest as a habitat for orangutans has always been the biggest challenge. In reality, orangutan habitat restoration and rehabilitation are laborious and costly activities. Both Restorasi Habitat Orangutan Indonesia (RHOI) and the BOS Foundation need to secure sufficient funds and more land, to ensure long-term success.
Forests Forever for Orangutans
To realise our vision for RHOI we required a business license for the Utilization of Forest Timber Products through Restoration of the Ecosystem (IUPHHK-RE), also known as an Ecosystem Restoration Concession (ERC). This process was required, due to the fact that since 2002 the BOS Foundation's orangutan rehabilitation centers in Nyaru Menteng and Samboja Lestari had been unable to reintroduce orangutans into the wild due to the challenges of securing suitable and safe forest areas. As a non-profit organisation, the BOS Foundation is not allowed to apply for this license, due to government regulations. Hence, RHOI was established. On 18 August 2010, RHOI was issued an ERC permit, giving them the authority to use and manage 86,450 hectares of rainforest and provide a sustainable and secure habitat for orangutans for at least 60 years, with the option of extending for another 35 years. Issued by the Ministry of Forestry, this ERC license cost around US$1.4 million, which was funded by generous donations from donors and BOS Foundation partner organizations in Europe, Australia and the USA.
RHOI named this forest Kehje Sewen, which translates as 'orangutan' in the local Dayak Wehea dialect. By name and nature, the Kehje Sewen Forest became a forest for orangutans.
RHOI and BOSF are constantly on the lookout for new suitable land in Central Kalimantan to address occupancy challenges in the orangutan rehabilitation centre in Nyaru Menteng, as well as a license to expand the Kehje Sewen Forest in order to meet the needs of our orangutan reintroduction program at Samboja Lestari in East Kalimantan.
Sustainable Forest Management and Community Involvement
In addition to providing a home for orangutans, RHOI also undertakes general sustainable forest management activities such as restoration, rehabilitation, environmental management and long-term habitat protection. They also encourage and support local community involvement and empowerment through partnerships, forest education and training, research and development, and trading (goods and services for sustainable non-timber forest products) for domestic and international markets. These are all important steps for RHOI and the BOS Foundation in their commitment to creating a brighter future for orangutans and supporting worldwide efforts to combat the serious threats of global warming and climate change.
How Can You Help
There are lots of ways you can support orangutans and help ensure the survival of this precious ape.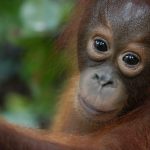 Adopt an Orangutan
Orangutans are endangered and at risk of extinction. Habitat destruction means hundreds of orphan orangutans need to care for every year. You can help by adopting one. Their dedicated 'nannies' teach them everything they need to know for when it's time to release them back to the wild. You can follow their progress through Forest School.
Adopt Now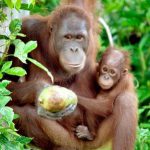 Make a Donation
Please help the Orangutans in their struggle for survival. Your donation is important and goes directly to BOS Indonesia. By donating, you are helping bring this noble yet endangered species back from the brink of extinction and on a path to freedom - from rescue to rehabilitation and release.
Donate Now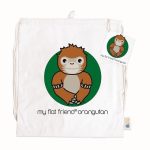 Visit Our Shop
The perfect gift for any occasion! Choose from our selection of instant gifts that directly support our orangutans. You can buy a wheelbarrow, provide food for an orangutan for two months or lots more. You will receive a certificate, personalised with the name of your choice - perfect gift for you or a friend.
Shop Now